This morning we had a visitor from the Sheriff's dept... @ 3 AM!!! The deputy was knocking and ringing the doorbell trying to wake us up. Before I understood what was going on Justin was at the door talking to the deputy saying, "no our house is not on fire."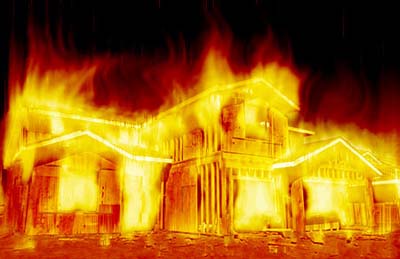 What?! Let me set it up first. I put the bird outside a few weeks ago, but because it gets cold at night we turn a heat lamp on for him. The bulb is red so when it's on obviously there's a red glow. Secondly we have a wood burning stove and we use that as our heat source. Naturally when you have a fire in the stove the smoke comes out of the chimney, that's kind of the point.
Early this morning a concerned citizen drove down the street and could see a red glow in our back yard accompanied by smoke. They called 911 and thus the Sheriff's dept at our door. What a morning. Thanks to whoever called because you never know, we could've had a fire in the house and not known... although I've done my fair share of smokin out the house trying to build a fire and it is pretty hard to breath. I think we might know if there actually was a fire in here.